Stockholm, 05/06/08 -- Urban Gavelin has become a credentialed coach graduate following the completion of the coach education under Leapfrog AB's leadership of Håkan Schyllert, one the country's best-qualified educator of coaches.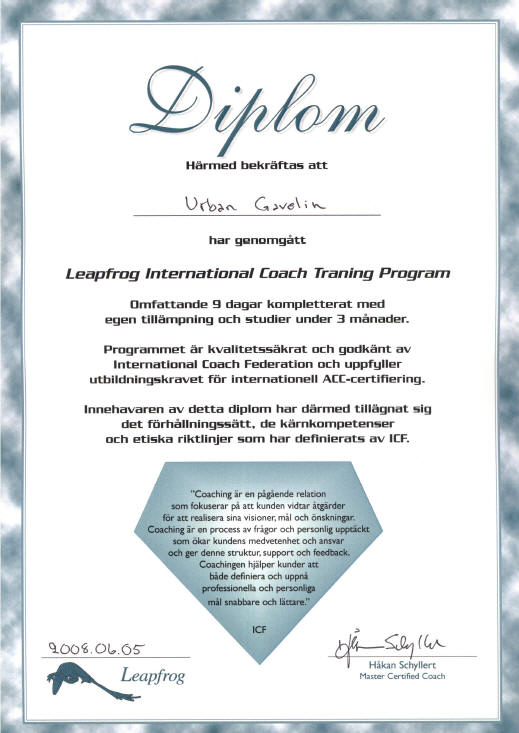 Description of the ACC Basic Course

The course is quality-assured and approved by the ICF (International Coach Federation), for those who want to become internationally certified as a coach.




The course is based on three fundamentals: Course material content corresponding to requirements for international credentialing at the ACC-level. Communication training which allows coaches to get more out of meetings with people, both professionally and privately, as well as personal development through personal coaching during the time of the course. The programme thus offers genuine competence and proficiency skills.

Purpose and goals of the course
To consciously and professionally be able to use coaching in meetings with clients and work colleagues respectively.

To give proficiency skills corresponding to course requirements for the lowest level of the three credential levels of ICF.

To, as a leader of a group or project, be able to change influential styles and use coaching in their leadership.
Course content
The course gives a thorough review and training in ICF's core competences, such as ethical guidelines. The student practices using a model for coaching which allows the coach to get more out of their meetings, regardless of the role they have. The programme is adapted to and uses individual strengths. We train both "personal coaching" and "performance coaching" as well as orientation in telephone and group coaching. During the programme, we review many tools used by a professional coach.
Course leader
Håkan Schyllert, Master Certified Coach. He took his first coach training course in 1999 at the Hudson Institute in California (one of the ICF-accredited PCC courses). He then took his Mastery in Coaching Training at Newfield Network and is also a Certified Somatic Coach from the Strozzi Institute. Together with his assignments for ICF, he is probably one of the country's most best-qualified coach teachers. Today, he mainly coaches leaders of companies and organizations both in Sweden and internationally.
About Urban Gavelin
Urban has twenty-five years of business experience, of which eighteen in international business. He has held positions as sales, marketing and business development in Nordic, in the European market and worldwide. Urban has lived and worked in Stockholm, London and New York.
For more information please contact:

Gavelin & Co.
Tel: +46 (0)18 10 95 25

e-post: